– Yard Gouge (Summer 2018)
Posted: 8/7/2018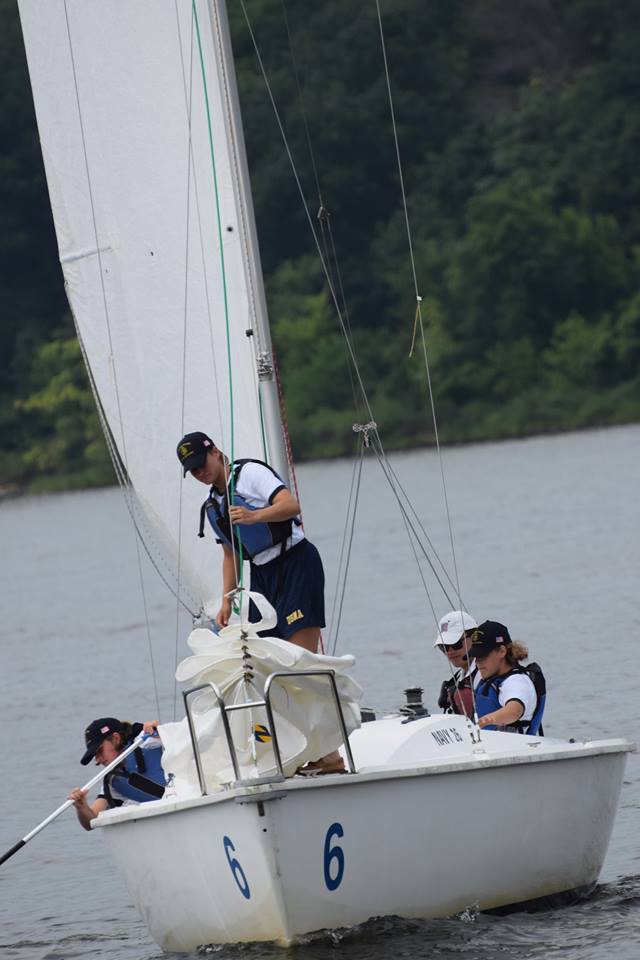 Hey Classmates, here's  a host of gouge about the latest at USNA from the last Council of Class Presidents Meeting
Recent Drug Ring news: Many of us have heard about Midshipman Zachary Williams who was charged with distributing illegal drugs. Superintendent VADM Ted Carter told us that the investigation by NCIS has been going on for awhile, and it was brought about by a midshipman turning someone in. There were about 7-8 users and 1 distributor (I'm assuming that MIDN Williams is the one who is being charged with being the distributor). Most of those involved were Youngsters and Plebes.
---
Investment in Midshipmen / Cost of Being Separated. The cost of being separated can be pretty large. Depending on the circumstances, a firstie can wind up owing the federal government $202K. Two firsties who were separated for DUI recently owed that much.
The total burdened cost of graduating a midshipman is $428K. Total burdened cost includes stuff like USNA housing, maintenance, utilities, etc. – basically taking the entire budget allocated to USNA and dividing it by the number of midshipmen. USAFA costs $160K more and USMA is 17% more. The cost difference is not necessarily because we're more awesome (which we are) – it's driven by our smaller campus, our smaller staff, and more graduates.
---
There's a great deal of construction underway or planned!
Rickover Hall. Believe it or not, RIckover Hall is OLD, so a $52M overhaul is scheduled to begin in 2019. That overhaul doesn't include the labs just yet, but those will be an additional $10M (if I'm reading my notes right).
Ricketts Hall. I'm not even sure we should still be calling this building Ricketts Hall, because it is completely different from the barracks and football offices we had when we were mids. Anyway, it's been under construction again and should be done by 2019.
McDonough Hall. Remember this building was being renovated when we were plebes? Well it's going through another facelift inside. It's our most used athletic building! Didn't know that.
Chapel Dome. The base of the dome will go through $7M-$8M of repairs to fix leaks and mold problems.
Hopper Hall. The primary focus of our class project, Hopper Hall should complete its $106M construction in late 2019 (if we're lucky, it will be in time for our reunion, but no promises!). Here are some stats:
It's a little smaller than Rickover
When complete, most engineering will move there
Power grid connection is a challenge because the grid is OLD
It will have a robotics pool (that's cool – a place for cyborgs to hang out, I guess)
It will have a big SCIF capable of hosting meetings, and no other service academy will have that scale of capability
Not building related – our Cyber program recently received "zero" comments while being accredited by ABET (Accreditation Board for Engineering and Technology). Ours was the first Cyber program to be accredited and – apparently – no one ever gets zero comments during the inspection process.
Parking Garage. There's been quite a bit of drama surrounding this new structure, but it's finally open and SAFE to use. There are 374 spots in the garage, resulting in a net increase of 60 spots, even after the loss of the "waffle lot."
Naval Academy Bridge. This is the "new" bridge completed in the 90s that replaced the old Route 450 drawbridge  across the Severn. The lights used on it have always been an issue, so USNA fixed them using lights that we use on Stribling Walk. Apparently they've been a great success.
---
Sports.:Last spring was the best season EVER for Navy with a 70% winning percentage. Men's Tennis won the Patriot League and played ultimate National Champion Wake Forest in the first round of the NCAA tournament. Navy's Triathlon Club won the overall club title at the collegiate club national championships with the men finishing first and the women finishing third. Read more: https://www.teamusa.org/USA-Triathlon/News/Articles-and-Releases/2018/April/28/US-Naval-Academy-Wins-Overall-Club-Title-at-USA-Triathlon-Collegiate-Club-National-Championships
2nd Class Noah Song pitched a 9 inning shutout against Army in Fenway Park.
The direct-to-pro athlete program is no longer in place – we're back to the David Robinson model of at least two years of active duty before having a chance to go pro.
There's a chance that the 2023 Army game will be at Gillette stadium in Foxborough, MA.
The Showtime program, A Season with Navy Football (editorial note: which is thankfully over), is up for 2 Emmy Awards.
---
2017  Seventh Fleet collisions: There's been a great deal of discussion over whether USNA can help the Navy improve basic seamanship. Here's some gouge:
YP and SeaNav training for OCS and NROTC: NROTC is viable given the summer schedule; OCS is problematic with scheduling.
Moving MoBoards up to plebe year (didn't we have MoBoards plebe year?) so that Youngsters can start looking at application during summer cruise.
We are getting a new fleet of 12 YPs.
---
Applications / Admissions / Graduation: All colleges are seeing decreasing applications, and so is USNA, but we are seeing a BIG increase in the number of applications we receive from women and minorities. We got about 16,000 total applications for the class of 2022, which is more than USAFA (10K) and USMA (12K).
There are 1185 spots in an incoming class. Of those 16,000 applications, about 3500 are fully qualified for those spots. You may notice that that number is smaller than the number of spots we had on I-Day (what was it, about 1360?). The reasons for this are:
Faculty quality
Admissions process – we are better at deciding who should get an appointment
Academic Center of Excellence – tutoring / additional classroom work.
When we were there, the expected attrition rate was about 21%, 6-8% of which were academic. Now attrition is about 11-12%, and most of it is voluntary (1.5% is academic). In Plebe Summer, only about 10 midshipmen separate.
Average Brigade size is 4400.
99% of midshipmen get there first and second choice for service selection, and submarines have once again become a hot ticket (things were a little dicey about a decade or so ago).
Here's some interesting analysis from the Academic Dean (Dean Phillips):
Nationwide, there are 1474 schools that offer 4-year degrees and graduate 100 or more people a year. Of those, only 41 graduate 50% or more with STEM degrees (Only 41! Yikes!). Of these schools, USNA has the highest graduation rate in 4 years – 88.8% — and most of those other schools use 6 years for their graduation rate. In other words, we do more in 4 years than they do in 6. In 4 years, the average graduation rate for those schools is 29%, and it's 59% in 6 years. Interesting to note that those 41 schools DO NOT include Army or Air Force – less than 50% of their graduates are STEM majors.
Class of 2021 stats are
73% male / 27% female
37% are members of a racial/ethnic minority
14% are the first in their family to attend college
11% are first generation American (like me!)
5% are prior enlisted
62% were in the top 10% of their class (seems low?)
92% were Varsity Athletes in high school
90% were active in Community Service
66% were student body leaders
30% had significant work experience
16% were Boy/Girl Scouts
«
– Unique Group Retirement Opportunity!
Recent Posts
CLASSMATES -- To ensure you will receive important class emails, please keep your profile including your email address up-to-date with the National Association at
https://www.usna.com/sslpage.aspx?pid=308
.