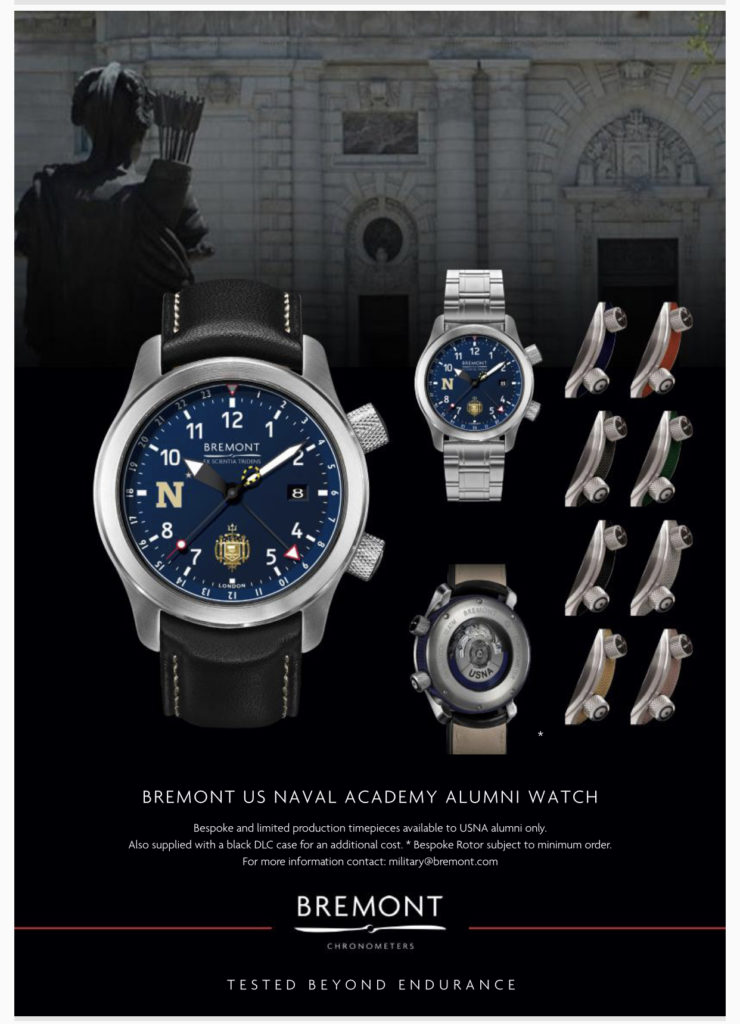 This unique time piece is ONLY available to USNA alumni, graduates and non-graduates. If you are in the Alumni directory, you are eligible for this timepiece!
Details:
Kelly Brown is collecting names and design details so that we can start the ordering process.
Some may want to order this for their alumni children. This is possible 3 months after their class graduation date. The first 50 orders will only be taken for our class. Once Bremont goes "live" with the USNA Alumni Watch ordering site, you will be able to place an order for your child.
Once Bremont has received our order details, they will email everyone with the details regarding securing his/her order by processing a security deposit of about $990. Bremont will offer three methods of payment: online, by phone, or bank transfer. Bremont will only start collecting deposits once they have received enough orders (about 30-40 watches}. Once all of us 89ers have ordered, Bremont will go "live" and open ordering to all alumni to reach their required production minimum.
Bremont is doing a "special deal" for '89 with regards to serial numbers on the watch. They have given us serial numbers 001-050. If you have a certain hull number of a ship, aircraft number, squadron number, etc., and it's 050 or below, you will be able to secure that as your serial number on a "first to request" basis. For that reason, our class will be given a timeframe to choose our serial numbers, then serial numbers not used by us will be assigned, in sequential order, as orders are filled by remaining USNA Alumni.
Kelly Brown is the Project Lead and will receive updates from Bremont with information on payment for the deposits (who has and has not paid).
When all the deposits have been received, the Project can go 'live' and Bremont can start work on the dial sample,

COSC

movement testing, etc.
The lead time from a Project going 'live', to having all the watches assembled, tested, engraved, quality checked, and ready to ship is about 32-36 weeks for this size project offering three bespoke components.
Each watch is sent to each individual using FedEx to their preferred shipping address with all the paperwork and a Technical Notes explaining about caring and recommended servicing of a Bremont time piece.
$50 from each watch sale goes to the USNA Annual Fund.
MBIII Watch price: $2,998** (Includes leather watch wallet, strap changing tool, leather and NATO Velcro straps,

COSC

paperwork, and customs to the USA. FedEx shipping separate.) retails at $5,795.
If you would like to set up a payment plan, you will be able to via the Military Projects Team (military@bremont.com) for further information at the earliest opportunity. Please note that payment plans must be agreed with the Bremont Military Projects Team. Failure to comply with the agreed plan will result in the cancellation of the order. A payment plan up to 6 months is available.
Options to consider when ordering: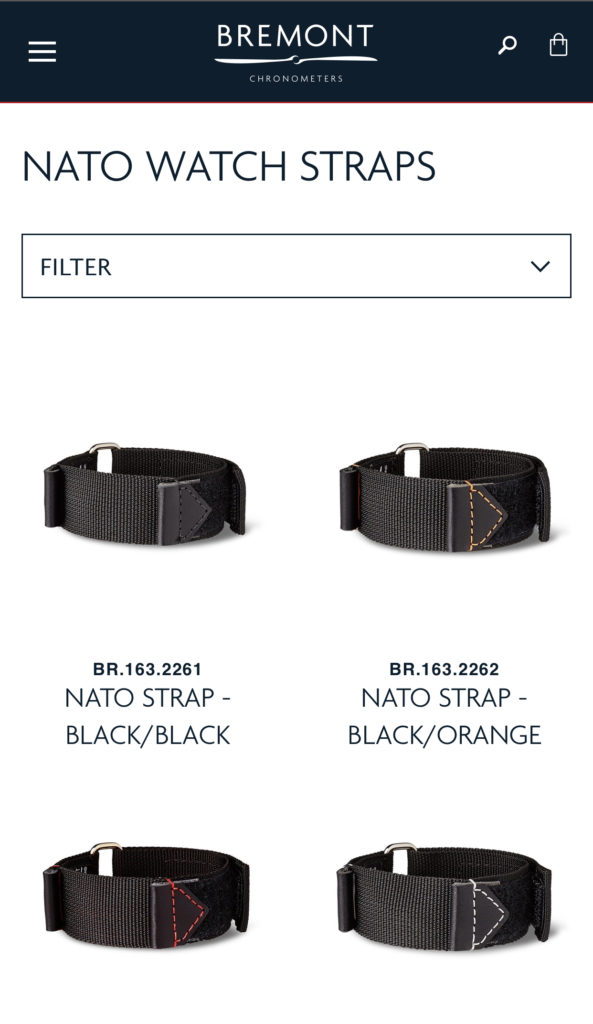 Calf Leather Strap and NATO strap: (NO EXTRA COST)
Add Metal Bracelet $395 (retails at $725)
Replace leather and NATO for Bracelet ONLY $295
Add Temple Island Rubber Strap $120
Add Extra Leather Strap: $145
Add Extra NATO Strap: $45
Add Deployment Clasp: $145
If you are going to purchase a watch, please contact Kelly via email with the following information (this is for information only, so we can get a minimum count to go "live" with ordering):
Name
Email address
Telephone number
Billing address
Shipping address (if different from billing address)
Side barrel color: Orange, yellow, green, gold, yellow, anthracite, Jet (extra $75) and Titanium (extra $75)
Case Back: Closed (no charge) or Open with sapphire crystal (extra $95)
Case Finish: Stainless steel (no charge) or Black DLC (extra $155)
Rotor color: Blue or Red
Serial number: 002-050 (001 is taken). This is on a "first requested" basis (i.e. whomever gets their info to me first. You can text me the number you want and send me the remaining info soon thereafter).
You'll be able to specify your 8-character engraving once you place your order with Bremont (see picture of USAFA watch).
**"1989" will be engraved on every watch back.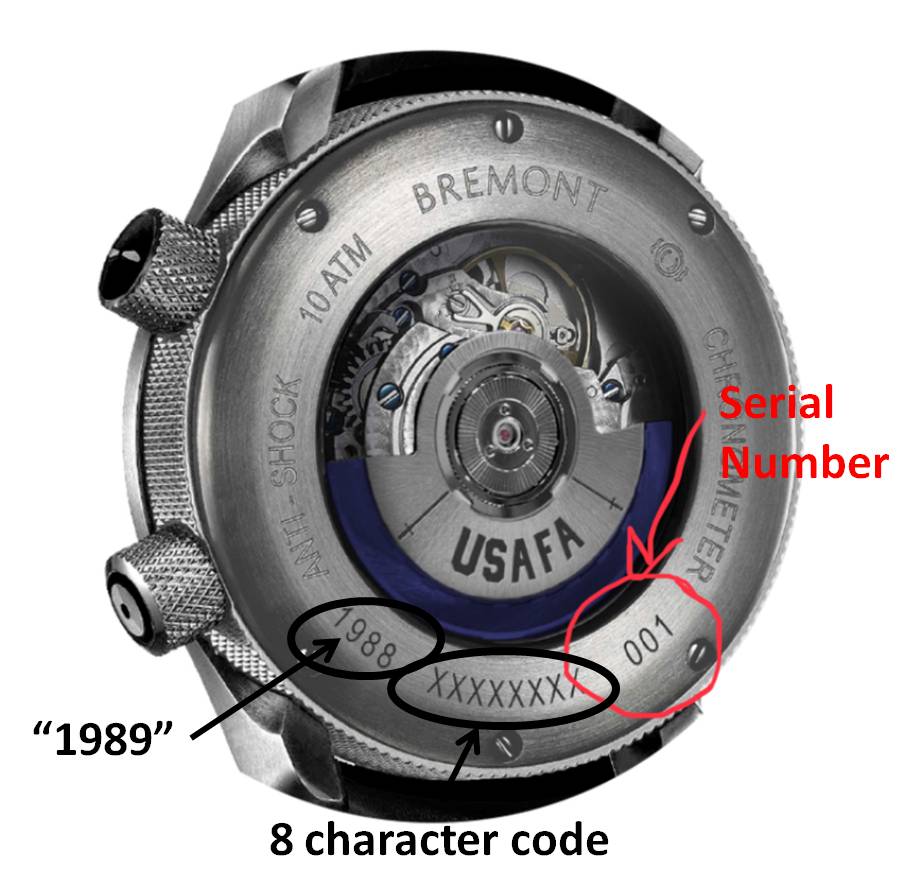 From Kelly: I hope this information was helpful. I'm really enthusiastic about our class project. Please call, text, or email me with any questions. If we get our information in soon enough, we'll be donning the watches for our 30th, and you'll be able to answer the question, "What time is it?" with every degree of accuracy through the inner workings and hidden mechanisms of your Bremont chronometer!
Beat Army!
kb
612-817-2996
kilobravo1@yahoo.com
Posted by Ingar Grev
Click here for the Class Watch Project archives
---
Recent Posts
CLASSMATES -- To ensure you will receive important class emails, please keep your profile including your email address up-to-date with the National Association at
https://www.usna.com/sslpage.aspx?pid=308
.