Recent Posts
CLASSMATES -- To ensure you will receive important class emails, please keep your profile including your email address up-to-date with the National Association at
https://www.usna.com/sslpage.aspx?pid=308
.
We just picked up on this news about a year late: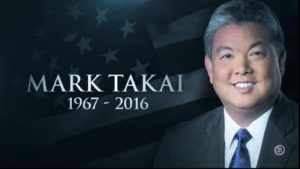 Mark Takai, Hawaii Democrat serving first term in Congress, dies at 49
By Emily Langer
July 20, 2016
The Washington Post
U.S. Rep. Mark Takai, a Hawaii Democrat who was a longtime member of his state's legislature and a veteran of Operation Iraqi Freedom, and who was serving his first term in the House of Representatives, died July 20 at his home in Honolulu. He was 49.
The cause was pancreatic cancer, said his chief of staff, Rod Tanonaka. Rep. Takai's illness was diagnosed in October, and he announced in May, after learning the cancer had spread, that he would not seek reelection in 2016.
Rep. Takai served in the Hawaii state house for 20 years before his election in 2014 to Congress, where he represented a district that included Hono­lulu and the surrounding area. The seat had been vacated by Rep. Colleen Hanabusa, who that year unsuccessfully sought the Democratic nomination for U.S. Senate.
Rep. Takai won with 52 percent of the vote to the 48 percent garnered by Republican Charles Djou, a veteran of the war in Afghanistan who served briefly in Congress after a special election in 2010. During the campaign, the candidates debated the role of the United States in the conflicts in Syria and elsewhere.
"The war in the Middle East from my perspective is really not our war," said Rep. Takai, who served in the Hawaii Army National Guard and was deployed as a medical officer in the region in 2009. "This is centuries in the making; these conflicts began when time began."
In the House, Rep. Takai served on the Armed Services and Small Business committees. Among his legislative efforts, according to the Almanac of American Politics, was a bill to help Filipino veterans of World War II reunite with their families.
Kyle Mark Takai was born in Honolulu on July 1, 1967. He received a bachelor's degree in political science in 1990 and a master of public health degree three years later, both from the University of Hawaii at Manoa, where he was a champion swimmer.
Rep. Takai ran an insurance brokerage and consultancy. He was elected in 1994 to the state house, where he rose to vice speaker, and had been a member of the Hawaii Army National Guard since 1999.
Survivors include his wife, the former Sami Kai of Honolulu; two children, Matthew Takai and Kaila Takai, also of Honolulu; his parents, Erik Takai and Naomi Takai, both of Waipahu, Hawaii; a brother; and two sisters.
Congratulations, Paul!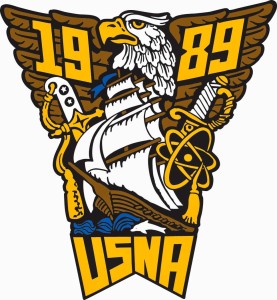 President Donald Trump has nominated Paul Dabbar '89, an investment banker with J.P. Morgan Chase in New York City, to be the Department of Energy's (DOE's) undersecretary for science.
If confirmed by the Senate, Dabbar would succeed Franklin "Lynn" Orr in the post. Orr left the post this past January.
According to a White House statement released today, "Dabbar is Managing Director for Mergers & Acquisitions for J.P. Morgan, and has over $400 billion in investment experience across all energy sectors including solar, wind, geothermal, distributed-generation, utility, LNG, pipeline, oil & gas, trading, energy technology, and has also led the majority of all nuclear transactions."
Read the rest at the Science News