Recent Posts
CLASSMATES -- To ensure you will receive important class emails, please keep your profile including your email address up-to-date with the National Association at
https://www.usna.com/sslpage.aspx?pid=308
.
Classmates:
Hope all are having a good Spring.
As you all know, our class project (where our fundraising is going well) in part funds the Cyber competitions for the mids to allow them gain a broader experience to Cyber outside the walls of the Yard
This last week, the mids competed in the NSA Cyber Defense Exercise, for students from the US service academies and from the Canadian Military College
Once again, under the strong leadership of our classmate Paul Tortora, our team won the competition!
Learn more at the following links.
http://usnatrident.blogspot.com/2017/04/usna-wins-annual-nsa-cyber-defense.html?utm_content=buffer8c2e4&utm_medium=social&utm_source=facebook.com&utm_campaign=buffer
https://www.nsa.gov/news-features/news-stories/2017/2017-cdx-summary.shtml
Paul Dabbar '89, Class Gift Chairman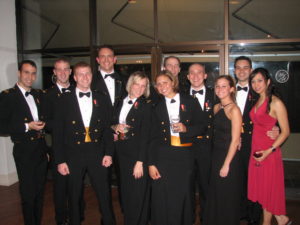 The registration for the 25th Company Dining Out is finally live! Well, sort-of. You have to wait for Monday, April 10th when it officially opens, but here are the details for the 25th Company Dining Out:
Price: $55 per person
Register: Call MWF during working hours (I'm guessing 0900-1600, M-F) at (410) 293-8497.
No change to the date, time or location:
Date/Time: April 21st, 1800-2200
Where: DoubleTree Hotel in Annapolis (where the Holiday Inn used to be).
Beat Army!
Ingar