Click here for the 30th Reunion Pictures. Select the "3 bars" on the right side of the screen to switch view options, and select "tiles" to view the pictures. More coming!
Click here for 25th Reunion Pictures (download zip files)
Click here for the 20th Reunion Pictures
Update and FAQs from Chris Owens, our reunion chair:
Attendance numbers for the reunion are huge! We are adding additional staff to prevent backups during check-in. Help us out by taking advantage of extended check-in times and making sure you are registered and paid in advance. If you plan to register and pay at the "door" you will be required to use the same electronic registration system. No cash payments!
Thursday night early check-in and no host reception. Waterfront Hotel (former Marriott) and adjacent Pusser's bar areas. If you want to eat in the dining room reservations are recommended.
Friday parking and '89 Bus Transportation: If you are staying in the downtown Annapolis area, we recommend walking or using a ride share service (e.g. Uber Lyft) to get to the Yard. The Annapolis Circular City Bus also runs continuously between the Westin hotel and the downtown waterfront area. Otherwise, please consider using the '89 Bus Service.
Park at the stadium on the Blue (home) side using the entrance off Taylor Avenue – parking is $5 cash (all day).
The Class of '89 bus will pick up at the Blue Angel aircraft on the southeast corner and drop off will be in the yard in front of Dahlgren by the Submarine Memorial.
2 Buses will run from 0900-1100, every 30 min, on the top and bottom of the hour.
1 Bus will run 1100-1630 and will depart the stadium at the top of the hour and depart the Yard at the bottom of the hour. Note that they will stop running during the parade.
2 Buses will run from 1700-2000 every 30 min, on the top and bottom of the hour.
If you miss the bus and don't feel like waiting, you can walk or take a ride share to Gate 1.
Dahlgren Friday Reception Details. This casual reception starts at 1700 and ends at 1900. It includes non-alcoholic drinks and light Hors d'Oeuvres. Your registration includes two alcoholic drink tickets and there will be a cash bar if you would like more.
Saturday parking. There is no general parking at the stadium for the game on Saturday. If you do not have a parking pass you will need to find offsite parking in the local area or at Germantown Elementary School, but the options are plentiful – click here for all the gouge.. The going rate for offsite parking is $20; Harry S. Truman park-and-ride is free (check the parking gouge link). If you are staying locally we recommend walking or a ride share service (e.g. Uber, Lyft).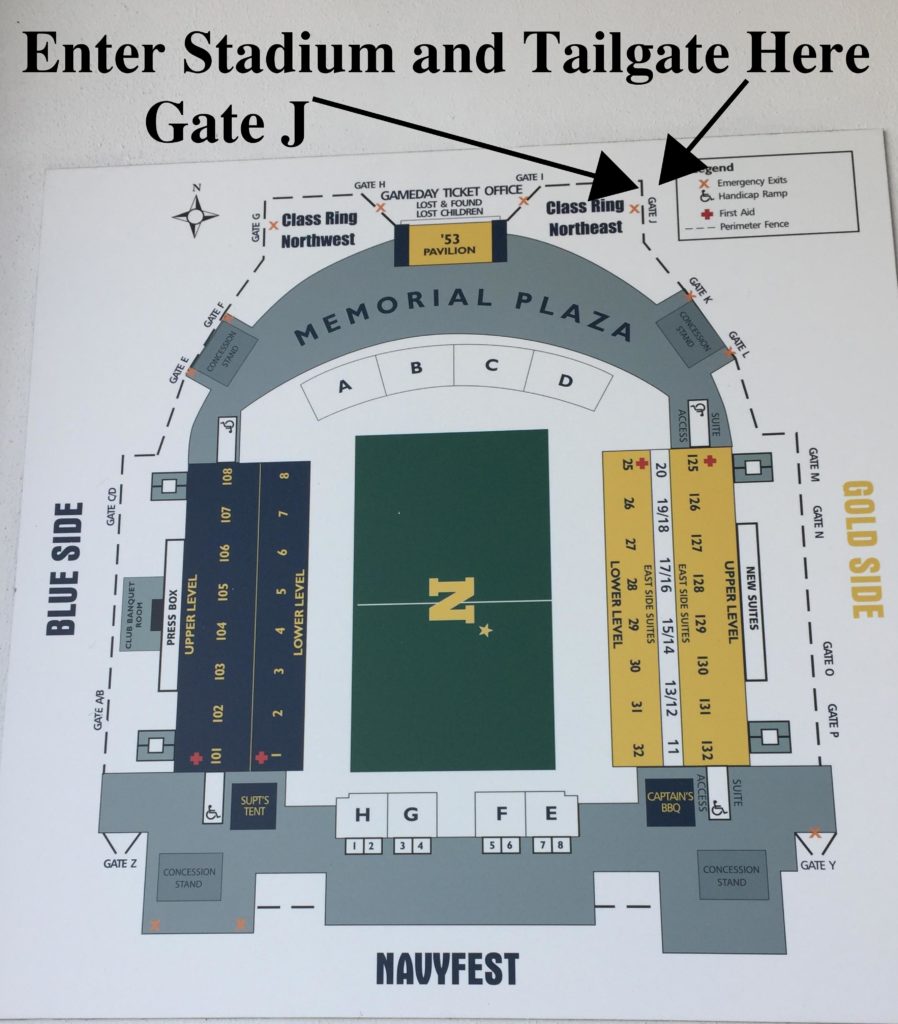 Tailgater Access. Please enter the football tailgater through the dedicated 89 Reunion gate on the north-east side of the stadium (see nearby picture). If you haven't been here for awhile, you should take a quick look at stadium policies. You will be required to show your reunion name tag, present your valid football tickets and pass through security screening. If you have not already checked-in you will be able to do so at this gate. Bringing items into the stadium? We have you covered with an 89 bag that complies with the new clear bag security requirements (one per classmate). This is the only entrance for new check-ins.
Dress code. Causal for the entire weekend!
Class Gift Update. Our classmate Paul Tortora has rustled up a few midshipmen to give us an overview of USNA's Cyber Program – join us after the Memorial Service on Friday AM to see the impact our Class Gift is having on developing our future warriors!
Schedule of Events
Thursday 24 Oct 2019
(1700-2100)    Early Registration and Check-in at Pusser's Caribbean Grille
(1700-2100)    Informal Get Together at Pusser's Caribbean Grille
Friday 25 Oct 2019
(0730-1600)    Midshipmen Store Hours
(0900-1700)    Visitor Center Hours
(0900-1700)    Museum Hours
(0900-1500)    Registration and Check In Dahlgren
(1000-1100)    Memorial Service in Memorial Hall
(1100-1200)    Class meeting in Mahan Hall
(1200-1215)    Noon Meal Formation
(1350-1500)    Superintendent Briefing and Alumni Association Welcome to all classes Mahan Hall
(1600-1715)    Dress Parade on Worden Field
(1700-1900)    Registration and Check In Dahlgren
(1700-1900)    Class Reception Dahlgren
(1915-2030)    Jewish Service in Levy Center
Saturday 26 Oct 2019
(0730-1200)   Midshipmen Store Hours
(0800-0900)   Prayer Gathering All Faiths Chapel Mitscher Hall
(0930-1030)   Fun Run at Navy Support Annex (Click here to view map)
(0900-1700)   Museum Hours
(0900-1700)   Visitor Center Hours
(1330-1530)   Registration and Check In Tailgate (Click here to view map)
(1330-1930)   Tailgate – Class Ring Northeast / 53 Pavilion (Inside Stadium)
(1530-1830)   Navy VS Tulane Navy Marine Corps Memorial Stadium
*Times subject to change based on final game schedule
Sunday 27 Oct 2019
(0830-1100)   Sunday Breakfast in King Hall
(0900-1700)   Visitor Center Hours
(0900-1000)   Catholic Service in Main Chapel
(1100-1700)   Museum Hours
(1100-1215)   Protestant Service in Main Chapel
Posted August 11, 2019 by Ingar Grev. Updated October 12 and October 23 2019 by Ingar Grev.
---
Archive:
2/23/19 Update: Click here to see the draft reunion agenda.
A football ticket is required to enter our tailgater (BIG CHANGE from our past reunions) – click here to get the gouge if you want to get a jump on the tickets.
---
11/4/18 Update: Start booking your hotels!
Just like we did at the 15th Reunion, we won't be using a host hotel for our 30th, so we haven't blocked rooms anywhere…so have at it! Use your favorite travel app, use up your miles, consider booking one of the Historic Inns of Annapolis, or take a look at AirBNB
Less than a year away!!!!
---
8/12/18 Update: The question many are asking is "when can we start booking hotels?"
Just like we did for our 15th Reunion, we will not be using a host hotel for our 30th. Although there are upsides to having a host hotel like we did for our 20th and 25th, it can also have a number of downsides – particularly the commitments we are obligated to meet. Without a host hotel, we have much greater planning flexibility.
The only real downside to not having a host hotel is that we don't have a large block of rooms reserved in one hotel this time. Moreover, given our participation in the American Athletic Association, we now have fewer options for selecting weekends in advance of the actual year of the reunion – the only Home dates that are locked in 2019 are Air Force and Homecoming. What that means is that any class that wants to book a reunion in advance of 2018 only has two choices, so there's going to be a good deal of interest in hotel rooms for those two weekends. Bottom line: it's not a bad idea to start securing your hotel room as soon as possible (generally hotels will not take reservations more than 1-year out).
You all know the drill – there are plenty of hotels in downtown Annapolis and around the area in Parole, Bowie, BWI, etc. AirBnB and other house rental options are also available, as are a number of beds and breakfast. If you can't book anything yet for the weekend, it's a good idea to set a reminder as we get closer to that 1-year out point to get your room locked down.
---
If you are interested in being a part of the reunion committee, please contact Joe Fagan at joe.fagan@usna.com
Click here for 25th Reunion Pictures (download zip files)
Recent Posts
CLASSMATES -- To ensure you will receive important class emails, please keep your profile including your email address up-to-date with the National Association at
https://www.usna.com/sslpage.aspx?pid=308
.